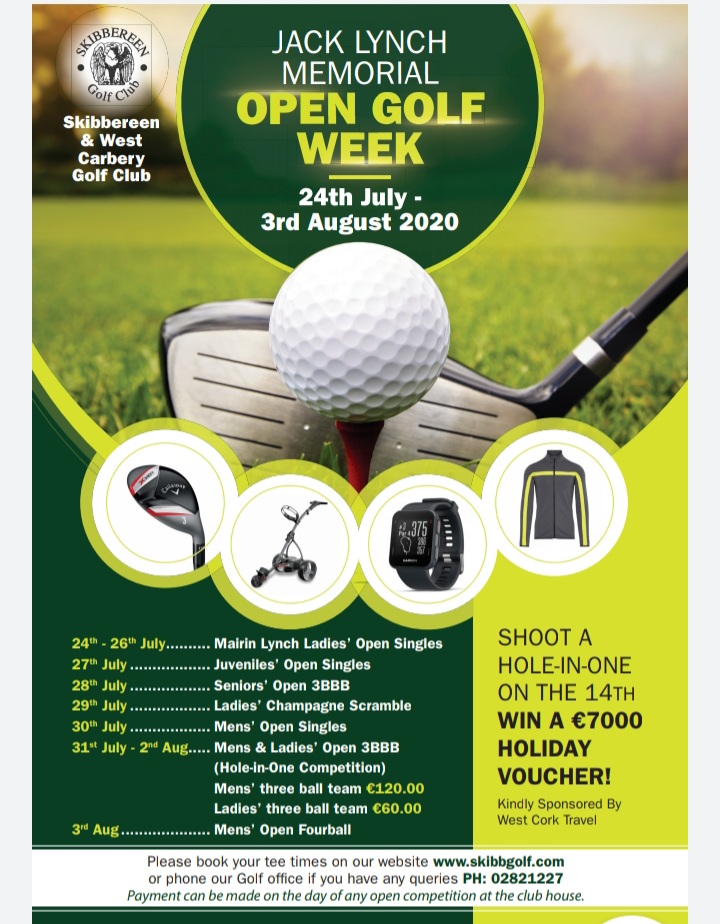 Our annual Jack Lynch Memorial Open Week has moved to a later date this year but with a great line up of competitions to suits all golfers.
Book on BRS or by phoning the golf office at 028/21227.
Now West Cork's biggest open golf event, the annual Jack Lynch Memorial Golf Classic began in 1985 and has become the showpiece of Skibbereen and West Carbery Golf Club.  This year's (2020) event will take place from 24th July – 3rd August 2020.
The week-long event extends a warm invitation to all categories of golfer to compete in the many OPEN competitions held throughout the week: ladies singles, men's fourball, juvenile singles, senior men's 3BBB, ladies scramble, mens singles, and mens and ladies 3BBB classic.
The 2020 programme is as follows:
JACK LYNCH MEMORIAL OPEN WEEK
Fri 24th, Sat 25th & Sun 26th July  Mairin Lynch Ladies' Open Singles
Mon 27th:  Juvenile Open Singles
Tue 28th:  Senior Mens 3BBB
Wed 29th: Ladies Open Champagne Scramble
Thurs 30th: Open Mens' Singles
Fri 31st July, Sat 1st, Sun 2nd Aug:  Ladies & Men's Open Team Event
Mon 3rd Aug: Mens Open Fourball
About Jack Lynch
John Mary "Jack" Lynch (15 August 1917 – 20 October 1999) was the Taoiseach of Ireland, serving two terms in office; from 1966 to 1973 and 1977 to 1979. Prior to his political career, Lynch, a keen sportsman, winning five All-Ireland hurling titles and one All-Ireland football title. When Jack Lynch retired as Taoiseach in 1979 and from the Dáil in 1981, he and his wife Mairin retired to their home in Rathgar, Dublin. The couple frequently visited West Cork, where Jack Lynch was made patron of Skibbereen & West Carbery Golf Club. After her husband's death, Mairin Lynch often attended the club's Jack Lynch Classic tournament and is remembered by the Mairin Lynch ladies' event in July. Jack Lynch died on 20th October 1999, aged 82, and is buried at St. Finbarr's Cemetery, Cork. In 1999 the Jack Lynch Tunnel under the river Lee was named by Cork Corporation in his honour.