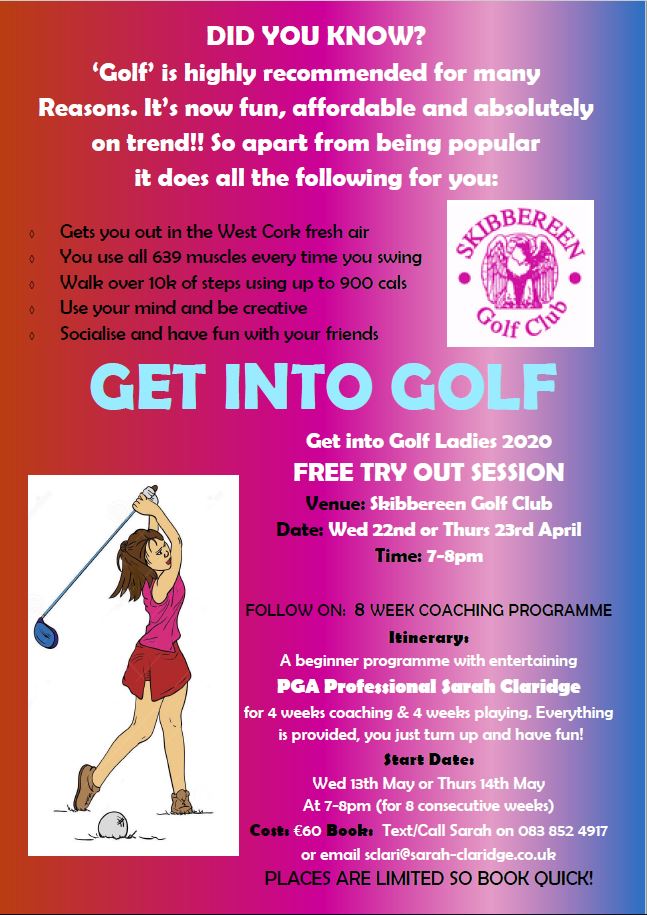 Inviting ALL lady members
This 4 session programme is aimed at helping you "win matches" or score lower by improving the following areas of your game: group 1 are those that haven't attended before and group 2 are made up of those players that came last year
Session 1 – 8th Feb (group 1 1-3pm) (Group 2 3-5pm)
Approach Play – Chipping technique and club selection
Bare lie/fluffy lie/ near pin / distant pin
New ideas on how to practice in between sessions
Session 2 – 22nd Feb (group 1 1-3pm) (Group 2 3-5pm)
More Approach Play – Pitching technique with target practice from 80 yards inwards
Bunker shots from 10 – 20 yrds and what to do when one is in your way!
How to practice on the course
Session 3 – 7th March (group 1 1-3pm)
9-hole coaching session. No clubs needed to start with, walk the fairways. Watch and discuss with Sarah how she plays the first 3 holes, observing the following:
What type of shot she plays and why? / Her club selection and why?
How she plays the shot / percentage play for match play
Her shot routine to stay in the present with "Mind Factor" techniques
Then from the 4th hole you will play the last 6 holes in 3's to experiment with what you've learnt as
Sarah walks round helping with shot types.
(Group 2 3-5pm)
Sloping lie shots – ball above the feet / ball below the feet / ball on an uphill and downhill lie approaching greens and fairway shots
Mind Factor techniques to help win matches
Session 4 – 28th March (group 1 1-3pm) (Group 2 3-5pm)
Emphasis on match play strategies and working as a team
Play 9 – hole 4 ball match play with Sarah walking around with feedback
Cost: €40 each
Some of you have already booked in. However, if you haven't you still can by emailing Sarah on
sclari@sarah-claridge.co.uk or text or WhatsApp to 0838524917
*****************************
MIND FACTOR WORKSHOP
Break through your golf with Karl Morris
Thursday 8th October 2020 at 7pm
The Mind Factor Workshop with Karl Morris comes to Skibbereen.
This workshop will literally blow your mind!
Tickets are limited so book in soon to get your place….See you there.
**********************************
Ladies Pro-am
On the 4th and 5th of September 2020 we will be hosting the first WPGA lady professionals pro-am to be held in Ireland. The professionals are all very experienced former LET players and coaches. Sarah has put a fantastic day's itinerary together for a member's day on the Friday and a visitors day on the Saturday.At this stage we would like to know how many members would like to play??? Please can you let Sarah know as soon as possible if you are interested in playing. You can either enter as a team of 3 or 6 or apply as an individual.
Contact Sarah
0838524917
email 
sclari@sarah-claridge.co.uk
Coaching Programmes 2019
Junior Golf
Booking are being taken for the Junior programme.
Programme is a mixtures of lessons with Sarah Claridge, Director of Golf/PGA Professional and on course playing.
The 10 week programme starts on 14th of May with three class choices;
Tuesdays, Thursdays or Saturdays.
Please contact Sarah to book on 083 852 4917, golfdirector@skibbgolf.com
---
Ladies Get into Golf 2019
Following on from 'taster session' bookings are now being taken for this years Ladies Get into Golf.
8 WEEK COACHING PROGRAMME
Itinerary: A beginner programme with entertaining PGA Professional Sarah Claridge for 4 weeks coaching & 4 weeks playing. Everything is provided, you just turn up and have fun!
Start Date: Wed 15th May or Thurs 16th May At 6.30-7.30pm (for 8 consecutive weeks)
Cost: €60 Book: Call Sarah on 083 852 4917 or email golfdirector@skibbgolf.com
PLACES ARE LIMITED SO BOOK QUICK!
Gals Golf and Gas
Last years 'Get into Golf' ladies now have their own 20 strong Wednesday night club. They golf, they gas and they like G&T!! If you are a new member to the club or thinking about becoming a member, and would fancy a fun social evening that includes coaching and playing this would be a lovely idea. 
For more information on any programmes please call me on 083 852 4917
or email golfdirector@skibbgolf.com
Train the Golf Brain
I specialise in 1,2,3,or 4 session Train the Golf Brain workshops or individual sessions to help you "lower your score" by using tried and tested strategies that help you to play "happier more mindful golf". I have rolled these workshops out to many ladies and men's sections UK & Ireland wide and would be delighted to discuss whether this is something that your Golf Club would like to run. 
For more information on any programmes please call me on 083 852 4917
or email on golfdirector@skibbgolf.com