Golf tuition is available at Skibbereen & West Carbery Golf Club for members and non-members of all ages and abilities at great rates.  Lessons are provided by Sarah Claridge PGA Specialist Coach and Kieran Lynch PGA Assistant Professional, who assists in junior coaching and group lessons with Sarah.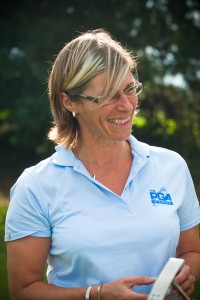 Sarah Claridge  
PGA Specialist Coach
I have recently been awarded PGA Specialist Coach status after a career spanning twenty five years as a PGA Professional. My passion is working with golfers to discover what each person uniquely needs to learn, to develop and improve their game. I have coached at all levels from kids and beginners through to tour professionals. I have extensive experience working for England Golf and The PGA. Some of my proudest work has been as a Coach to young female elite players who went on to become PGA Professionals and LET tour players such as British Open Champion Georgia Hall. I have represented the PGA of Europe as a Coach Consultant and coached squads in Latvia and Barbados. One of my most memorable experiences was to be selected by the PGA to chaperon and coach a group of talented GB&I juniors under the tutelage of Tiger Woods former Coach Butch Harmon in Huston, Texas. I have also been a tutor and a CPD coach with the PGA and I am delighted to be tutoring Kieran as he joins the pro ranks too.
Awarded PGA Specialist Coach Status by the PGA for career achievements to date 2021
Mind Factor Certified Coach – qualified with Dr Karl Morris, Mind Factor 2019
1 of 6 Featured Coaches in Golf World's 100 Best Tips by Britain's Top100 Teachers 2012
England Development Coach 2000-2010
Tutor and CPD Lecturer on the PGA Foundation Degree Programme
Coach consultant for the PGA of Europe and the R&A – 2010-2016
Creator and designer of Smartpro Coaching resources for the Golf coaching industry 2000-2016
NLP Master Practitioner qualification with Trained Brain Ltd 2008
Selected by PGA to chaperon & coach 12 GB&I juniors in Houston, Texas alongside the Harmon brothers 2004
PGA qualified 1996, PGA AA status to date
Book a lesson: Call Sarah on +353(0)83 852 4917 or email her on sclari@sarah-claridge.co.uk  or check out Sarah https://www.sarah-claridge.co.uk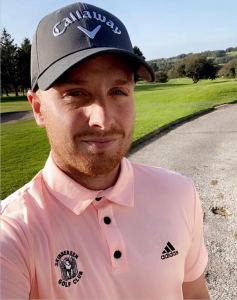 Kieran Lynch
PGA Assistant Professional
"I have recently entered the pro ranks through the PGA after spending 15 years playing on the elite Irish amateur and college circuit. I have been fortunate enough to play alongside every grade of golfer from friends I have introduced to the game to major winners such as Darren Clarke and Shane Lowry as well as many other European Tour Professionals. I have gained great knowledge and insight on many aspects of the game through these experiences that I would now like to pass on, and having worked with top provincial and international coaches as a player in Fred Twomey and Neil Manchip I believe I have seen some of the best at work. I now continue to learn in my PGA training under the tutelage of Sarah and hope to use my experience as a player to improve your game as well".
Connacht boys champion 2009
Irish Faldo series Champion (u-162010) & (u-21- 2013.)
Irish international (2007-2013)
Highest points scorer at boys home internationals- 2011
Munster provincial player (2006-2014)
Munster senior provincial player 2013
Paddy Harrington golf scholar @ Maynooth University 2013-2017
2:1 degree in business & management
1:1 masters in strategy & innovation
Asq level 1 coaching
Course record 65 was done in 2008
Book a lesson: Call Kieran on +353 (028) 21227
About Sarah & Kieran's coaching style:
Both of us develop our style of coaching around the player's needs. Being very player centred, we deliver both a technical method or a more holistic approach with better golf and enjoyment being high on our list of priorities. We often enhance all types of lesson whether putting, short game or long game with the use of video analysis. Sarah is also a Certified Mind Factor Coach and can help players with developing a growth mindset to improve various aspects of their game.
Lesson Cancellation
Both Sarah and Kieran have a 24 hour cancellation policy. If you cancel or fail to turn up inside 24 hours of the lesson time you will be charged the full fee of the time booked.